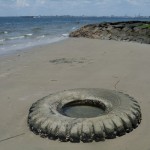 We are unique because we have the equipment to reach clean-up areas other non-profits can not or do not want to reach. If the area is 30 miles from the closest gathering and launch spot, and your boats can only travel 10 miles an hour, travel time takes up 6 hours of your work day. We have the ability to park our houseboats offshore adjacent to the clean-up area and worker shuttle time is minutes instead of hours. The second issue that differentiates us is we are cleaning up the environment year round.
Our primary focus is the environment and wildlife with veteran employment as the secondary purpose of our organization.
Keep America Beautiful
The largest non-profit focused on beach clean-up is Keep America Beautiful (KAB). Everyone has seen their ads, especially the memorable one with the Indian Chief shedding tears as people litter his land.
What most people do not know is the history of this organization. They were originally formed by beverage bottlers as an organization to generate publicity for issues important to their industry. They now have over 800 affiliates around the country reporting to a corporate office in Connecticut.
This is a very sophisticated and powerful non-profit. Almost every local bottling company, national beverage company, and plastic manufacturer belong to and donate to this organization. The local affiliates monitor issues and proposed regulations that deal with bottle deposits, banning plastic bags at grocery stores, etc.
Aside from lobbying, Keep America Beautiful works hard to generate a grass roots public roster of concerned citizens who will take the time to contact their elected officials on issues KAB feels are important. They work hard to recruit new members and donors. They do this in two ways. The most widely seen method for recruiting new members and donors is through their annual spring clean-up campaign. This annual event is successful and over the years has removed hundreds of thousands of pounds of debris and litter from beaches, roadways and parks. Ever year they are able to get 3 million people to participate in their clean-up efforts. Volunteers provide KAB with their contact information and then receive updates throughout the year and are occasionally asked to write letters or make calls to elected officials on issues important to KAB.
The other and more subtle ways of recruiting are through their Public Service Announcements and branding of beaches by donating trash containers with their brand emblazoned on the sides.
Keep America Beautiful's current CEO, Matthew McKenna is the former CFO for Pepsi, one of our nation's largest bottling manufacturing companies. Matt does acknowledge that in the past KAB has lobbied against banning plastic bags, deposit fees on plastic bags and bottles, and other products that represent most of the litter responsible for killing wildlife. Matt has assured me that his organization has evolved recently and as a corporate entity they are no longer lobbying against these issues.
This is an organization whose volunteers have made a tremendous contribution to the environment. However, all of that good work has been tempered by the ulterior motives of their corporate partners and their use of the organization as a vehicle to protect their interests.
Other clean-up organizations
There are at least 100 other organizations that sponsor an annual clean-up in their local areas. All of these organizations make a meaningful contribution to the environment and assist in preventing unnecessary wildlife deaths due to litter. Most of these organizations have no secondary agenda for staging their annual clean-ups. It is done solely to beautiful their area.
Veteran organizations representing wounded veterans
All of the veteran organizations that we have had contact with perform the mission they claim. We are not competing with any of them. We are assisting them by providing veterans with a temporary job that includes exposure to a number of career paths.
We are NOT a veteran's organization, we are a wildlife/environmental non-profit utilizing veterans to fulfill our mission.
Please make a donation to Wounded Nature – Working Veterans at: http://woundednature.org/support-us/donate/
Photo: This tire weighs several hundred pounds and is off a large front end loader or similar piece of equipment. It is located on Sullivan's Island, SC. Taken by Rudy Socha.