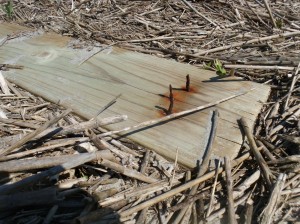 We are making a significant impact on America's coastlines.
Coastal Clean-ups
Our volunteers have filled numerous tractor trailer size dumpsters full of treated wood, tires, debris and trash.  Items such as orphan crab traps that have washed up into turtle and shore bird nesting areas have been dug up and repurposed.
There is a strong need for this work to be done. Plastic waste, previously thought to be indestructible, has since been found to break down within a year of the trash hitting the sea water.
More

Education
Wounded Nature's education – outreach – event tent.   If you ever see the tent, come over and say hello and try your hand at Turtle Putt.  The idea is to get the turtle egg (golf ball) past all of the beach debris into the turtle nest (hole).  On this beach (putting lane) you will also see a bunch of hatchlings from another nest try to make their way past all of the debris to reach the ocean.  If in one shot (also known as a hole in one) you can get the egg into the nest, you will win your very own sea turtle (plush toy) to take home with you.publicity will educate people about the need for keeping our beaches, estuaries, and oceans clean.
Media and Public Relations
Media and Public Relations combined with education are just as important as actually cleaning our coastal areas. Training the public not to discard their trash will save as many marine animals as removing the trash.
More